Christmas... The Most Wonderful Budget Bomb of the Year
It is hard to believe, but Christmas is in one week! And while Christmas brings many good things, time with our family and celebrations, for too many people, it's also a household budget bomb. So this year, I ask you to make a commitment to yourself and your finances.
How you spend over the holidays can affect you and your family more than you might think. If you have children, set an example to them that going over-board, by spending money you don't have - is just a bad idea. If you're charging gifts you buy, you'll start the new year by receiving bills for everything you bought-much of which you didn't need. This can easily set a domino effect of overspending, debt, and mental health issues caused by financial stress.
So what to do? You're deep in the holiday spirit and want to show your loved ones how much you care. We've got a few ideas to help you keep your piggy bank happy while still making the holidays merry and bright!
Set a family spending limit and stick to it. Make sure gifts are meaningful rather than plentiful. There are lots of ideas and suggestions all over the internet about how to save; we have lots of them ourselves…keep a list, plan ahead, avoid impulse items…. but the key is YOU.
Take control and decide this year; you are not going to let the holidays wreak havoc on your finances. Teach your children valuable lessons about money management and maybe start putting money away sooner.
Some of you may remember Christmas club accounts that people used to use to prepare for the holidays. They may not be as common now, but the premise, putting a little bit of money away each month or each paycheck throughout the year to prepare for holiday spending, is still solid. You can consider an online savings account, which often gives you a higher interest rate than most brick and mortar banks would. Start as early in the year as you can.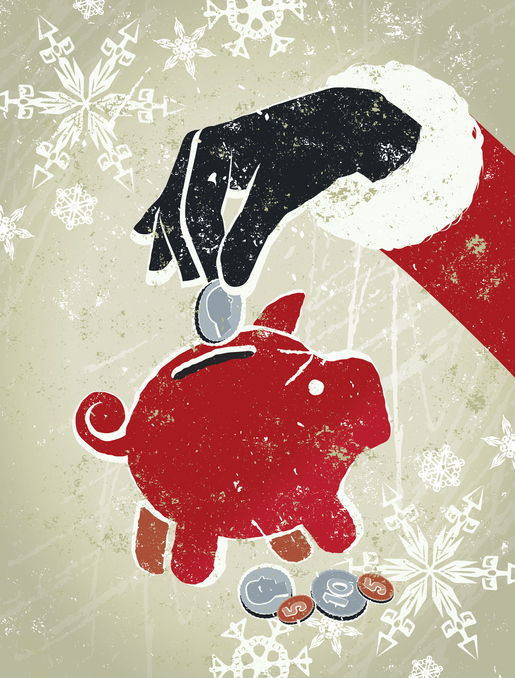 You should try reducing other discretionary spending during the summer and fall seasons, such as eating out at fancy restaurants or going out to the movies, to save that money for Christmas gifts.
Forget the store-bought gifts altogether! For many families and friends (especially those without young children.) For many people, a day of baking cookies, a fun movie marathon, or a game day complete with hot cocoa would be more fun than receiving the same generic gifts each year. If you want to exchange gifts, think about what alternatives you could give. Is there something you're skilled at that your family or friends would love? Maybe you make the best apple pie around. Perhaps you can knit your niece an infinity scarf in her favorite color. Maybe you're great at detailing cars, painting nails, or organizing closets. Offer what you're good at and what makes you YOU as a twist on a personal gift. The possibilities are truly endless. If you and your friends all love reading, do a book exchange, giving a book from your own library that made you think of the recipient. When you remove going to the store or online to purchase gifts, you're forced to be more personal and intimate with your gifts, which is what gifts for the people you care about most should be about.
Finally, remember the holiday season is about more than the gifts. Make sure you take time to enjoy being with your loved ones during the best time of the year.
We hope you have a wonderful week full of celebrating, warmth, and love. Even with the best intentions, many people find that the holidays have pushed their financial wellness over the edge. If you need help with your budget, need someone to help review your credit report, or would like to know what options you have for taking control of your debt, contact one of our Elves ( or Certified Credit Counselors, as they're known most the year) today. They've seen every possible financial situation and are ready to help you with yours!
Contact a Certified Credit Counselor
Ready to get started?
Our certified credit counselors are ready to help you take control of your debt and finances. Take the leap with us today.